Book Review: Hell-Bent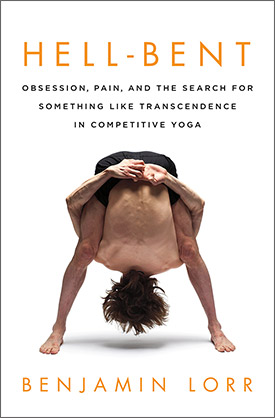 The title alone is intriguing enough to make you want to know more. Reading the cover further you will see: Obsession, pain, and the search for something like transcendence in competitive yoga. Competitive Yoga sounds like an oxymoron; yoga is synonymous with peace and zen. So to find transcendence in a world of competition seemed interesting, like a secret cult known to only a few...that is exactly what this book is about.
The author Benjamin Lorr writes this memoir of both his journey to fitness and the underworld of yoga. He shares his story of being overweight and one day being convinced by a friend to try Bikram Yoga. One day, turns into thirty, and then 365 days. Lorr was able to make his way into the secret society of competitive yoga one pose at a time. Lorr opens the closed door of the secret society of Backbenders, known by few. The Backbenders is composed of devoted yogis that manipulate their body in intense poses.
Loor recounts his experience at a Bikram teacher training that will have you sweating along with him. You'll meet the unforgettable character of Bikram Choudhury, the founder of Bikram Yoga.